Surfing in a great area
In Portugal you can surf (without exaggeration) 365 days a year. Or 366! The Portuguese coast has good waves every day. You can take them in different ways, it all depends on your talent and your mood.
The huge variety of natural conditions and the exceptional climate ensure unforgettable moments, both for beginners and the more experienced surfers. Some say that no other coast in the world has so many surf spots at such a short distance from each other. Portugal has waves for everyone and for all kinds of watersports. Tunnel waves perfect for surfing and body boarding. In some places even BIG waves, which only the most experienced and brave surfers dare to surf. The wind makes it also possible for windsurf and kitesurf.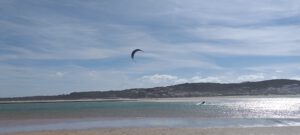 At 25 minutes driving distance
At 25 minute driving distance you will find Peniche, the surfers paradise. At Consolaçao, for example, the waves are very strong through the rock surface, making it a perfect place for intermediate surfers. To enter the water of the Spot Supertubes requires a little more technique. This spot got its name from its perfect left-wing waves, probably the best in Portugal. That is why a part of the WCT World Surf Championship is being held here. And for the beginners. There are several surf schools. Among others in Foz do Arelho, Nazaré and Peniche. Here you can learn all the tricks of this sport.
Discover more