Hiking
The Costa de Prata is ideal for walking and enjoy the beautiful views. There are many walking routes through fruit orchards, vineyards, forests and also along the ocean. Enjoy a walk at the Obidos lagoon and enjoy the many birds and natural vegetation. Or take a walk in the Parque Natural das Serras dÁire e Candeeiros. This is the most famous area in central Portugal for extensive walking tours. The Aire e Candeeiros is an mountain area consists of a limestone massif and has 16 hiking trails. There are also many caves in the area you can visit. Or just walk along the ocean on one of the many beaches.
Hanggliding
At the Centro do Voo Livre do Oeste you can take a course of hanggliding and paragliding. Also it is possible to take a course of tandem flights. Jumping is done near Sao Martinho do Porto and at Foz do Arelho. Only a few minutes from our Casa.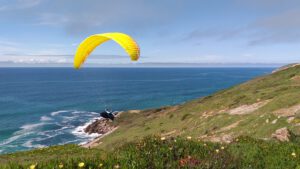 Mountainbiken
For the mountain bikers among you, it is a true paradise here. The many trails and rugged mountains provide adventures big and small. The Serra d'Aire e Candeeiros Natural Park is the place to Portugal's first official mountain bike center. In this area, 7 routes have been mapped out, varying in distance and difficulty. But directly from our casa there are several single tracks. Just across the street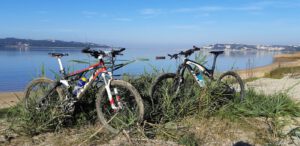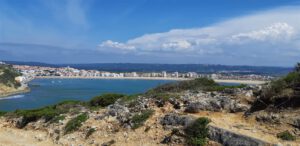 Scubadiving
Berlengas is a group of small islands in the Atlantic Ocean and is located 10 to 15 kilometers of the Portuguese coast, a little to the west of Peniche in the district of Leiria. Berlenga Grande is the only habitable island and habitation dates back to ancient times: the islands were mentioned in Geographia by Claudius Ptolemy as Λονδοβρίς (Londobris). Much later it was named Saturno by Roman geographers, and was visited successively by Muslims, Vikings and pirates / hijackers from England and France.
Discover more