Holiday is a period of time which you can relax and enjoy yourselfs. To help you relax we offer extra services.
For example, we have the option to provide breakfast.
This breakfast is €8.50 euro per person. Breakfast is served in the common room, but of course we can deliver it at your door step. Not in the mood for a full breakfast, but do you want fresh bread every day? That is also possible. Order your bread at least a day in advance and we will deliver it to you in the morning.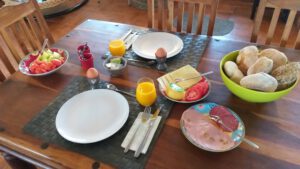 We also can provide a pleasant evening with dinner. Just good food with a nice wine in a casual atmosphere! Ask for the possibilities. We can also provide you with a refreshing drink by the pool.
Do you want to spend a day at the beach, but you did not bring beach towels? No problem. We have a rent service for beach towels (€ 4.50 each per week). One free baby bed can be arranged upon request.
Discover more