Foz do Arelho
Nice beach at the entrance of the Obidos lagoon. As well at the ocean side as on the lagoon side you will find a beautiful sandy beach. For the small visitor, the lagoon side is most pleasant because there are no strong waves. At the lagoon you have several beach bars where you can eat and drink on the terrace with a spectacular view.
Sao Martinho do Porto
The bay is a shell-shaped lagoon. This bay is connected to the ocean through a narrow opening between rocky hills. The bay is surrounded by hills and dunes and a sandy beach. In the summer there are many white beach huts (tents) on the beach. These tents can be rented, which gives you a nice place to lie in the shade. There is also plenty of entertainment on and around the water. Pedal boats and canoes can be rented. In the middle of the water are several air cushions and slides, where the children can play.

Praia do Salgado
This expansive beach is located between Sao Martinho do Porto and Nazare. The mostly rough sea, together with the wide beach, makes it unsuitable for children. It is a perfect beach for those who likes peace and quit.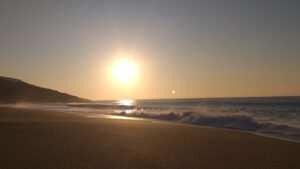 Discover more